While sin is the result of a person pleasing himself in what he does, the sinner coming to God in repentance admits his total inability to please God. In the New Testament to 'repent' means: to think differently after.
Repentance (metanoeo) in the Bible is more than acknowledging our guilt, true repentance involves a change of mind accompanied by a change of heart and change of conduct.
NATURE OF REPENTANCE
There is a three-fold idea involved in true repentance:
CHANGE OF MIND 
Matthew 21:29: "He answered and said: I will not; but afterward he repented, and went". The word here used for "repent" means to change one's mind, thought, purpose, views regarding a matter; it is to have another mind about a thing. Repentance is recognizing our sin and disobedience toward God and making conscious decision to turn from our sinful life toward God.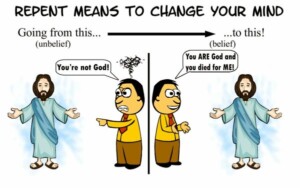 CHANGE OF HEART
2 Cor. 7:9 "Now I rejoice, not that ye were made sorry, but that ye sorrowed to repentance; for ye were made sorry after a godly manner; that ye might receive damage by us in nothing". The Greek word for repentance in this connection means "to be a care to one afterwards, to cause one great concern. "This meaning is exemplified by the repentant person who not only has profound regret for his past but also the fulfilled hope in God's grace and salvation.
CHANGE OF CONDUCT
One of the Hebrew words for repent means "to turn." The Prodigal Son said, "I will arise… and he arose" (Luke 15:18, 20). The act of repentance is shown in forsaking sin and turning toward God. Matthew 3:8-10 "Bring forth therefore fruits meet for repentance:… And now also the axe is laid unto the root of the trees: therefore every tree which bringeth not forth good fruit is hewn down, and cast into the fire." Is is not enough to turn away from sin; we must turn unto God. "For they themselves shew of us what manner of entering in we had unto you, and how ye turned to God from idols to serve the living and true God". 1 Thessalonians 1:9
PURPOSE OF REPENTANCE
The act of repentance does not earn God's forgiveness from sin; rather, forgiveness is given as a gift from God to those who he saves. We are called upon to repent in order that we may recognize our inability to keep God's statutes and consequently to rely on God to perform this work of grace in our life. God calls all to repent through the hearing of the Gospel. "So then faith cometh by hearing, and hearing by the word of God." Romans 10:17
By definition repentance is required before anything. One cannot show true change in their life before they have repented. True repentance results in obedience to God's commandments of water baptism and receiving the Holy Spirit.
John the Baptist preaching repentance
SCRIPTURES
Matthew 3:1-2, 5-6 | 
Matthew 4: 17
Mark 1: 14-15
Luke 13:1-3
Luke 24: 45-48
Acts 2: 38
Acts 17: 30-31
Acts 19:17-18
Acts 20: 20-21
Romans 3: 9-12, 23
Jesus preaching repentance Jesus preaching the gospel of repentance Failure by man to repent means he will perish Jesus instructs disciples to preach repentance Peters commands repentance God commands all men to repent Ephesians believed and confessed sins Paul teaches repentance Repentance is essential as there is none righteous, all have sinned and come short of the glory of God God's will is that all should repent ■          2 Peter 3:9